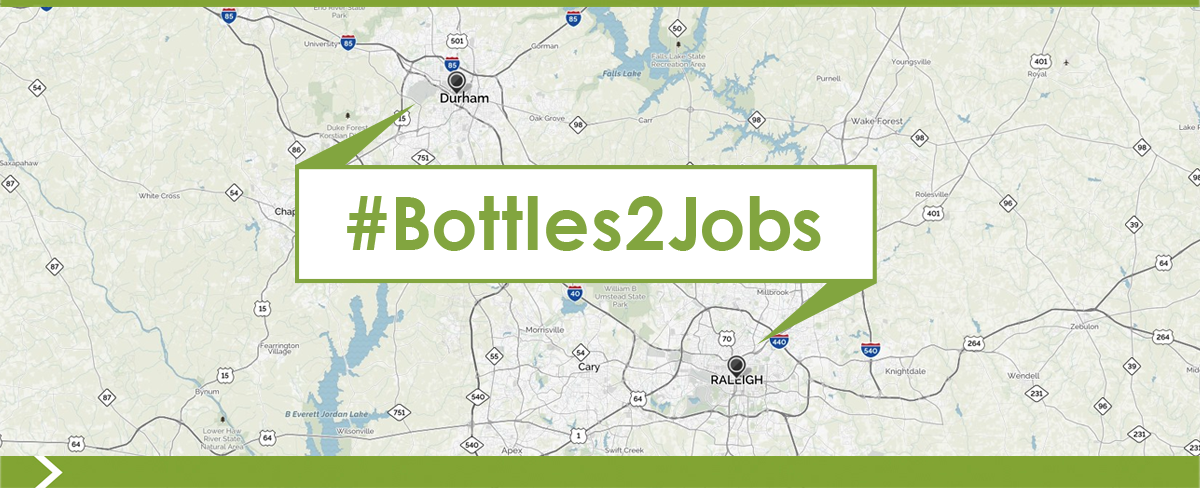 Campaign Update: Raleigh Durham
This just in: the Your Bottle Means Jobs campaign during the March-May 2017 time frame saw an increase in bottles sold in Triangle MRFs by 2%! That's the equivalent of over 520,000 PET and HDPE bottles that can be recycled into new products like t-shirts, textiles, plastic pipe and other goods produced in the Carolinas. 
Our successful multimedia campaign used billboards, radio, online ads, and events to get the word out to households in the Triangle to increase plastic bottle recycling. The Carolinas plastics recycling industry is growing, employing about 3,500 people. That's great news for the economy. What is less realized is that we need to recycle more plastic bottles to help feed the local recycling industry. More than 70% of all plastic bottles are thrown away. Carolinas plastics recyclers CAN'T find enough recycled plastic to run their plants efficiently so they have to import recycled bottles from across the globe. 
That's why we put the call out for everyone in the Raleigh Durham area (and the Carolinas overall) to recycle more plastic bottles - at work, on-the-go, your house of worship, where you play and at home.
Do Your Two - if every household dropped 2 more bottles in the recycling cart, we could create 300 more jobs in the Carolinas
What do you need to do? Recycle more and support our program! The plastics recycling industry in the Carolinas is robust and growing but needs everyone's help and support to get more bottles recycled. Over 3,500 people are directly employed converting bottles and other plastics to new products like carpeting, clothes and other textiles, plastic pipe, plastic lumber and more bottles. The Carolinas need more of these types of well-paying jobs and investments that will create them. The simple act of recycling more plastic bottles is one way to make this happen. Recycling is a proven job creator in the Carolinas, and if we always do our best to recycle 2 more plastic bottles a week, we will grow businesses across the region. 
LOOK - We Are in the News!
The News & Observer, April 7, 2017
RALEIGH - If you think that recycling plastic bottles is only good for the environment, the Carolinas Plastics Recycling Council has a message for you.
"Your Bottle Means Jobs" is the theme of the council's new campaign to encourage people to keep plastic bottles out of their trash cans. The campaign stresses the economic benefits of... Read more here